[45% Off] Tubebuddy Coupon Code (Lifetime discount)
Are you Youtuber? Are you struggling to get views on your YouTube video? Then I highly recommend TubeBuddy for YouTube channel growth. It's a tool designed especially for YouTuber who are struggling with channel growth.
Today I'll show you how you can improve your YouTube channel growth with Tubebuddy.
TubeBuddy's channel management browser plugin helps YouTubeers, content creators, brands, and networks save time and grow their brands directly from within YouTube. Find tubebuddy coupon code and promo code here.
How to get 45% Lifetime discount using Tubebuddy coupon code?
But before that, we'll see what exactly is TubeBuddy.
What is TubeBuddy?
TubeBuddy is the powerful Youtube SEO optimization tool(aka chrome plugin). It integrates directly on YouTube dashboard, works seamlessly well for your YouTube channel growth. This is a must-have tool for every YouTuber.
TubeBuddy Features
TubeBuddy features have subdivided into 5 sections. They are
Productivity
Bulk processing
Video SEO
Promotion
Data and Research
If you go inside and explore one by one mentioned in the above section, you'll find a lot of cool features that TubeBuddy offer to improve the YouTube channel growth.
Here are some of the amazinf features:
You can explore the full list of 64+ features below
Explore 64+ Tubebuddy Features
How to redeem Tubebuddy Coupon code?
Let me show you the exact steps to redeem TubeBuddy coupon code and get 45% lifetime off exclusively for my blog readers.
I was negotiating for 50% tubebuddy coupon code off but they came up with 45% off for my readers but still, that's a great deal.
Step 1
Click on the link and it'll take you directly to TubeBuddy upgrade page.  Select the channel and click on "Upgrade Now" button.
Here, you can see the type of license and prices as shown below.
Let's say you're purchasing STAR license and you have to pay $19 per month.
You have to pay $228 per year. Let me give my exclusive coupon code and tips to get the $228 deal for just $136.
You can use the same Tubebuddy coupon code for other levels(Pro and Legend)
Step 2
I suggest to pick STAR license as it's most popular but if you want some advanced features such as A/B testing, auto translation, competition upload alert, etc then you can go for LEGEND license.
You can see what features you'll get for the license level here.
Step 3
If you want 45% lifetime discount then you need to pay yearly subscription rather than paying monthly. If you go with a monthly plan I can able to get only 25% discount. I strongly suggest you go with the yearly plan to save more $$$.
If you select the option "I'll Pay yearly" under the coupons & discount section, you'll get 20% additional off as shown below
Step 4
Click on the Select button under the STAR license to proceed further. In the coupon code section. Enter my exclusive Tubebuddy coupon code "25OFFAMARINDAZ" to get an additional 25% discount.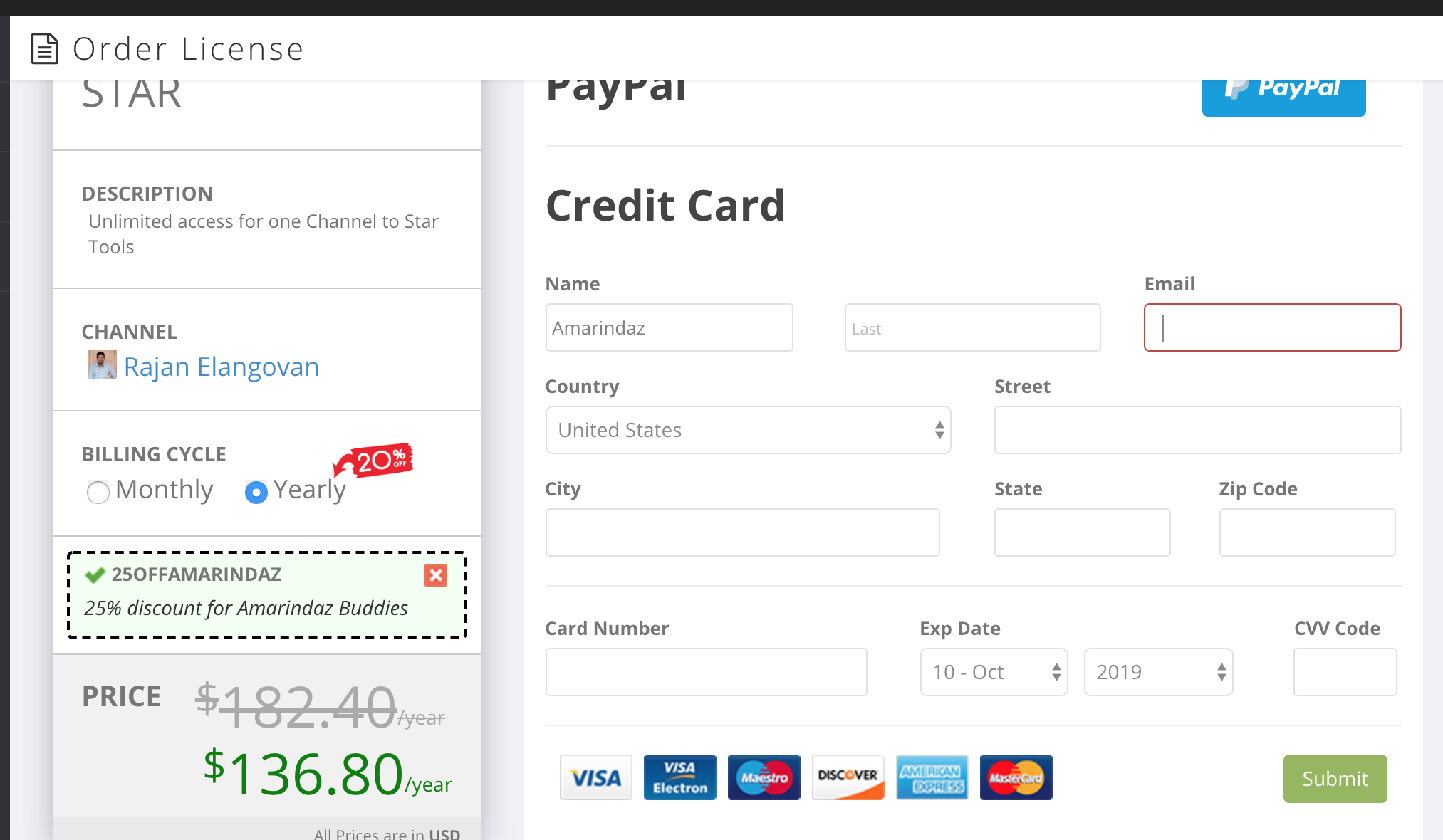 Congrats, now you have to pay just $136/year instead of $228/year with my exclusive TubeBuddy coupon code.
Go ahead and complete the order and your license level will be automatically upgraded.
Let me know if you have any doubts in upgrading TubeBuddy or facing an issue with TubeBuddy coupon code.
If you are new to TubeBuddy, you can check out my free Udemy course "YouTube SEO and Optimization with TubeBuddy" and learn how to increase YouTube views, audience retention, keyword research, tag explorer, YouTube video SEO, etc.,
Don't miss this great deal and make use of the TubeBuddy coupon code 25OFFAMARINDAZ. Don't forget to share it with your friends!