How to create and sell best online courses with Podia
In this post, we are going to see, how to create and sell best Online Courses with an amazing platform called Podia.
Teaching online courses will strengthen your skill as well as earn $$$ aside.
What is Online Course? 
The online course is web-based classes taught on the digital platform in the form video.
According to the survey, it is predicted that 60% of the classes are taught online. The demand for the online course is steadily increasing. There is no doubt that it soon touches 90%.
Here is the Google trend for the online course over the last 5 years.
The e-learning market is expected to double $325  billion by 2025 according to the survey.
Online courses are a fantastic way to share your knowledge as an instructor and create a brand name for you.
There are so many tutor websites available where you have to sign up as instructor and teach students one on one or for a group of students. But the worst part is you need to repeat the process again and again to earn money. In other words, you need to trade your valuable time to maintain the cash flow.
You can easily come out of this hassle by creating an online course and ask your students to register for your courses. So, you can spend more time on creating(and updating) content rather than teaching group of students every single day.
All you need to do is just create and sell best online courses to your students. And you just need to rinse and repeat the process.
Before creating an online course as an instructor you need to have a strategy for designing the course.
There are different instructor design models like ADDIE Model (which is a most commonly accepted model), Dick and Carey, Assure, Etc., available and it's completely up to you which one you're going to pick for your online courses.
Here are some of the important points to be considered to create and sell best online courses.
Factors to be considered before creating and selling online courses.
Pick the right topic
                            The success of your online course starts by selecting the right topic. Choose the topic that you were aware of or something you would love and know the best of your knowledge.
While creating a new course, you should consider two key points
What will be the course for?
What will be the outcome of this course?
Say for example if the initial idea of creating an online course is  "Java for beginner", the outcome should be "how your students can become professional Java developer". You must have a clear vision so that you can pass the same to your students. 
Analyze the demand
 After choosing the topic, analyze whether the topic has demand in the digital market. 
I know the next question comes to your mind is how can I analyze the demand for the topic?
Just go to Udemy and enter your topic on the search box.
See the number of results.
Go inside the courses one by one and find out how many students have enrolled for those courses.
You'll get a clear picture of the demand for your course.
You can even enroll for one of the best selling course on your topic. See the course structure. Observe how they deliver the content. Think about what else you can offer, put up altogether and present them in a unique way and on your own teaching style.
Many instructors might think that if there is heavy competition for a topic, then it's hard to sell the course. That's wrong!
If you design your course by putting valuable content and have a clear idea of how you're going to market the course then you no need to worry about the competition.
Sell your product prototype
In this step, you can ensure that your product(Online course) actually has a demand or not. Selling prototype is like testing the water.
This is the most crucial part of the online course creation!
Do you doubt whether your online course sell?  Do you think about whether students will enroll in your courses?
Just go and create a prototype of your online course(contain 4 to 5 videos) and upload it on YouTube as a preview.
Ask the viewers to give honest feedback and suggestion to improve the course.
Note down all the feedback and opinion very carefully and include those changes on your full-featured online courses. Because they are none other than your future students.
Once you're done with the full-featured course, you can use Youtube as a tool to market your full-featured online course by leaving a course link on YouTube description and ask the student to enroll at the end of the video.
Before you invest your time on a full-featured online course, its good idea to presell your prototype beforehand to ensure that it is actually what people looking for.
Design your content wisely
 You have to properly design the structure of your online course in the very early stage. So that you won't get stuck in the middle of course creation.
Do thorough research to gather the content that serves your audience expectation level.
Ensure that anyone(even beginner) can understand your course. If you feel that pre-requisite knowledge is required to take your online course do mention that in the Course description. 
You can even go ahead and create a beginner level course that fulfills the pre-requisite part and list it for free. So, when students are done with the free beginner level course, you should guide them to sign up for your full-featured online course.
Analyze the lectures of your competitors and include contents that fill the gap left by the competitors.
Go through the course reviews of your competitors. Pay more attention to critical reviews and find out what went wrong with those courses.
Think about how you can include those lagging portion on your course.
Develop your content
This is where your online course creation begins.
You already gathered resources, collected ideas, tips, content that attract the students. Make sure that you include everything on this development stage.
Think of what you can offer(like quiz, puzzles) something extra so that you can increase the engagement of students.
Ensure that there should be logical flow and topics are ordered sequentially. 
Keep the lectures short and to the point.
For example, if you create a course on "how to learn French" you have to go from basic pronunciation to a high level like topics like verbs, adjectives, and nouns.
Shoot the video in a sound free zone with an HD camera so that your lectures are clear and audible to your customers. Shoot or record videos in 1080p or 4K.
If you're teaching programming or coding make sure that you increase the font size so that students can clearly see the codes you've written.
Choose the right platform
Choosing the right platform will help you to create and sell your product effectively in ease of time.
There are two major platforms to create and sell best online courses,
Online course market place

Course creation software
Online Course market places such as Udemy and skillshare let you publish your course, list and share the profit with you. 
Course creation software let you focus only on the creating content and marketing of your course everything else like listing, digital storefront page, website customization, Payment handling. collecting leads(email), set up an affiliate, hosting  your content, custom domain, drip content, affiliate marketing, email marketing, etc., are handled by them.
Why you should go with online course creation software?
Now, you learned how to create best online courses. It's time to deliver or sell your online course to your students. How you're going to sell is the next question that comes to your mind after you are done with creating an online course.
As I mentioned previously, you can publish your online course on online course marketplaces such as Udemy and Skillshare. But I highly recommend you to go with Online course creation software like Podia.
Here are the big reasons why not to go with Online course marketplace
No direct access to students
Your students are the true assets of your online course. But these marketplaces don't allow you to directly contain your students or get their contact details such as email and phone number. They put several restrictions on TOS.
You can contact them only through their medium. If you take Udemy, you can contact only through Udemy messaging feature but students don't often check out the messages or notifications.
Even while sending announcements to your students, you have to follow their terms and conditions such as external link should offer free content, you cannot get contact details via an external link and moreover you can send only 4 announcements per month.
Big cut in every sale
They take a big chunk of money in every sale you made. Udemy takes 50% cut along with transaction fees in every sale you made on Udemy. Skillshare also takes 50% cut but their revenue model is completely different. Skillshare payout is based on how many minutes your videos are watched by their premium members.
Limited customization
When comes to the online marketplace, you are limited with customizing your course. You are bound to use only the options provided by the marketplaces.
We are not able to customize the domain name, you can't change the design of course listing page, you don't have the freedom in pricing(In Udemy, you can't offer a course for less than $20)
You should bound to keep the lectures within the time span mentioned by the online marketplace. For example, Udemy asks instructors to keep the lectures short and Skillshare asks instructors to keep the entire course short(not more than 25 mins).
and much more.
These are the 3 big reasons why you should create and sell best onilne courses with course creation software.
How to choose a successful platform to create and sell your online courses?
When you decide to create and sell your online course, you will come across a number of digital storefronts like Podia, Teachable, Thinkific, Learndash, Etc.,
If you are new to online course creation or if want to switch from another platform. Then Podia is the right platform to you.
I personally use Podia to sell digital products like Online course, ebook, software, membership site. It's all in one platform to store and sell all your digital products. 
Why Podia is the right platform for selling all digital stuff?
Before using Podia, I hosted all my online courses on Teachable basic plan but I ended up paying 5% as transaction fees on each sale and delay in payout(have to wait 30 days to get the Payment).
Then, I moved all my courses to Podia shaker plan
With shaker plan, I can create unlimited membership sites, sell digital products, host unlimited files, integrate with other apps such as Facebook Pixel, sumo, Paypal, Proof, MailChimp, etc. Moreover, Podia technical team moved all my courses from teachable to Podia for free of cost.
Payout is instant!
Podia is a one-stop destination not only for online course creation but also for converting your customers. Yes, user experience is very intuitive and I'm seeing a high conversion rate.
In some digital platform, the transaction fee is quite high.
It will take cut from profit so to make a profit, you need to increase the margin of online course higher than the actual which leads to losing the customers or poor conversion rate. But the good thing is Podia has no transaction fee.
They don't take cut from every sale.
So, you can concentrate on creating and selling online courses, rest will be handled by Podia.
Here is why I moved out of Teachable.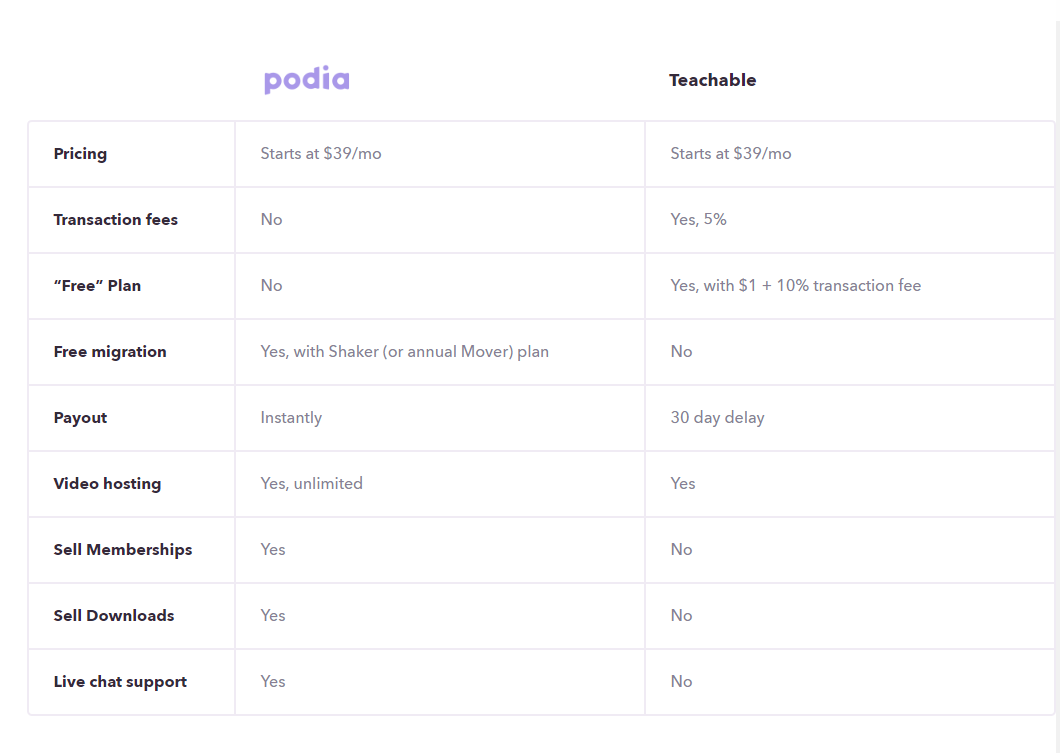 And here is the comparison between Podia and Thinkific.
Podia allows you for 14 days of a free trial(No credit card required). You can work on it and experiment with all the features(digital products, online course, membership site creation) and then buy it.
Sign up for 14 Days free trail
The features of podia are listed below which help you to create and sell best online courses,
Podia allows you to organize any type of files, text, audio, etc to create an online course. It not only help you to add content but it has more options like dripping the course, adding offers, coupons, etc,
Podia membership site is powered by a stripe( payment system). You can create a community to generate income by subscription. You can set up both monthly and annual subscription.
You can bundle up any type of e-book, pdf, mp3,mp4, EPUB, MOBI. sketch, AI and PSD without any technical headache and sell it in digital downloads.
Email marketing is an effective way to turn our subscribers into customers. You can gather the email address of your customers and subscribers say for example if you are going to launch a new product you can send an email. It can track email click, open rate, unsubscribe rates.
You can edit our own storefront in podia editor itself without battling in any other design tool.
But let's focus on how to create and sell best online courses with Podia.
How to create and sell best online courses using Podia?
Let me show you step by step on how to create and sell the best online course with Podia.
Step 1: Begin with Login 
Sign up for Podia. Head over to the login page.
Step 2: Learn the dashboard
Click "Your Dashboard" on the right corner as shown below
Step 3: Add content
It will be taken to the dashboard page, Click "Products" on the top bar
Click on "New Product" to create a new online course.
Step 4: Add lectures
You should find a Pop-up message asking what type of product you want to offer (like the online course, digital download or product bundle)
And also below that, you need to fill Product name and description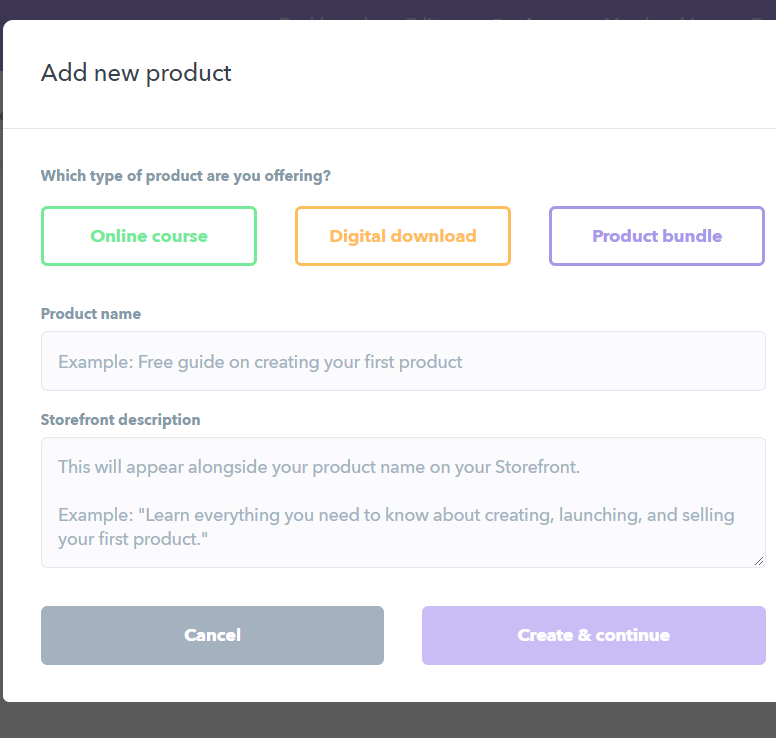 You have to select the type of product which you are going to offer to your students. I have selected "Online  course "
Here is the example of how to fill new product name and description
After filling the details click "Create and continue"
Step 5: Update course details
Podia will take you to the course creation page where it contains options like "content, settings, pricing, promote, customers and comment". Let's go one by one.
Step 7
The first step in course creation page is adding "content".
Here's where you are beginning with your online course creation.
You can add different type of contents
1)Add Sections
2)Add file
3)Add a link
4)Add text
5)Add quiz
Let us discuss how to add each content with an example in the below section,

ADD SECTIONS:
In add section, there will be two option, one is section info and another one is Drip settings
In section info, you have to fill the title and description and click "Save".
You can group a few lectures and add it under a section.
Another option is "Drip Settings". You can create a drip course using this setting. 
WHAT IS DRIP COURSE?
Drip course is the delivery schedule of your course. As the students pass through the course the new class will be added. It's very helpful option in membership sites.
Let's say you are creating membership sites for online courses and charge $15 every month. To avoid accessing all content in one month, you can drip your course and release one after other.
HOW TO CREATE A DRIP COURSE?
Go to the "Drip Settings" and click "Turn on the drip for this section"
A new pop-up window appears, where you can add the number of days after which the section will get unlocked.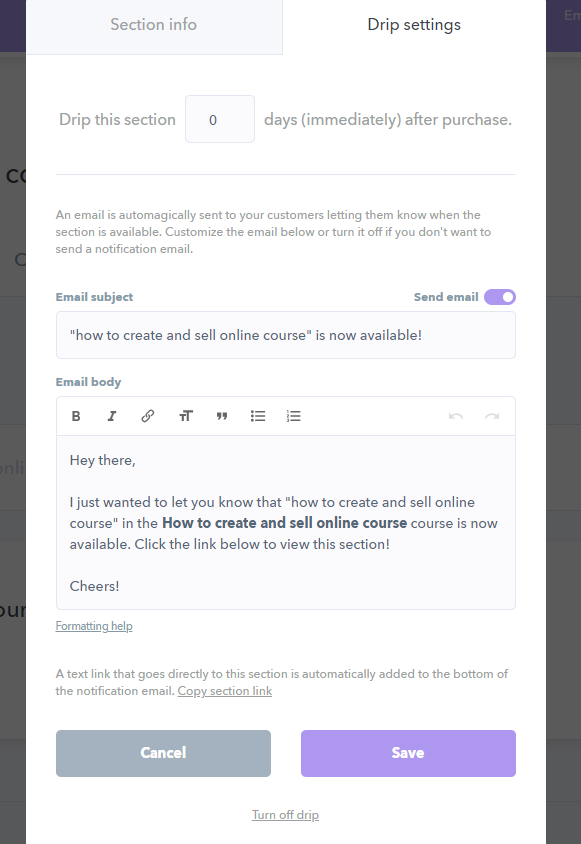 You can enable or disable the "sent email". I recommend you to enable the "Sent email" option so students get notified via email.
You can copy the section link on the bottom corner and attach to the mail if you wish to send it. And at any time you can turn off the drip based on your preference.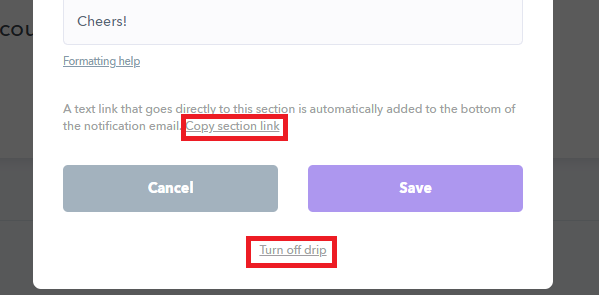 Let's say your students want immediate access to all your course video or content, you can unlock that particular section or all the section for that particular customer. Let's see how to do that
Go to the podia dashboard page, Click "customers" on the top menu bar as shown below.
Go to your course lecture, you will see a setting option on the right side of your course

Click on it two option "unlock section" and "Remove access"

By using "unlock section " you can remove the lock for that particular customer

You can revoke the access to particular content using "remove access" to your customer as well
You can remove access to certain videos or you can remove the access to all the videos as well based on your preference.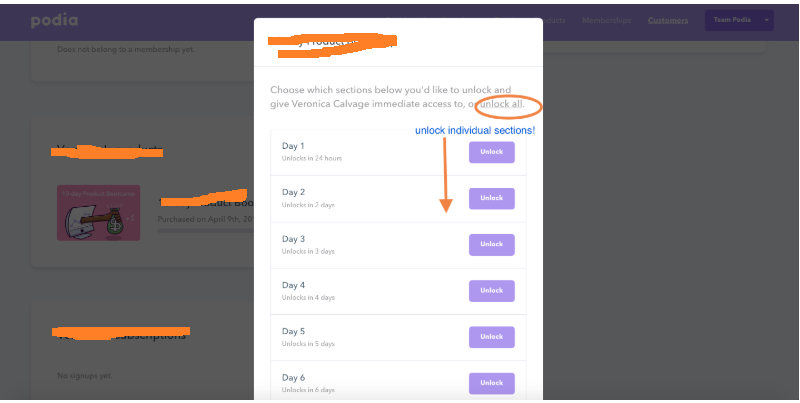 Once you made a selection then click "Submit" to unlock your course for your VIP customer 🙂
ADD CONTENT:
Adding content is a super easy way in Podia,
Once you create your section, you will find an "Add content"  in the right corner

Click on it, you can see many options like "Add files", " Adding text", "Add a Link ", "Add a quiz"

If you want to add any of these to your content you simply click on it and add it.
HOW TO ADD A FILE?
Click on "Add Content" and click on "Add Files"

You will get a pop-up window as shown below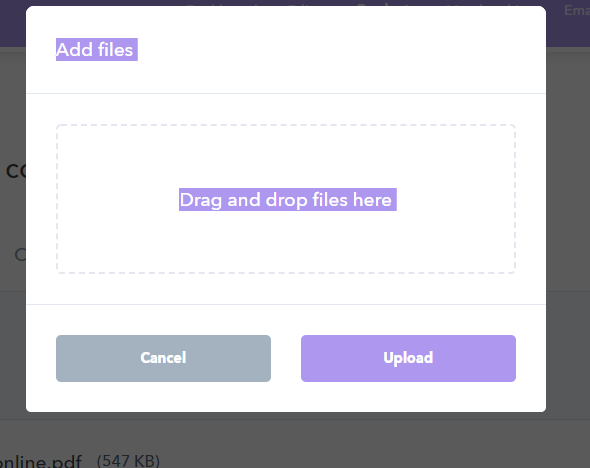 Just Drag and drop your file or even you can upload your file.

Once you are done it will be uploaded

Any file type is accepted, and after that, you can publish

To make changes in the file, click on the settings option and you can see three options
Edit file

Delete file

save as draft
If you want to make changes in the content you  can click edit the file

If you want to remove the file completely you can go for "Delete file"

Or you can save it as a draft and then make a difference and publish it later.
HOW TO ADD A LINK?
Click on "Add Content" and then click on "Add Link"

You will find a pop-up window as shown below

It Contains URL, Title and Description
If you are a blogger or if you have a company website this will help you a lot. You can add your product info link or blog page URL, title and description related to content.
You have options to insert the link, files and even images in the description box
Step 1:
Write the related content on your description box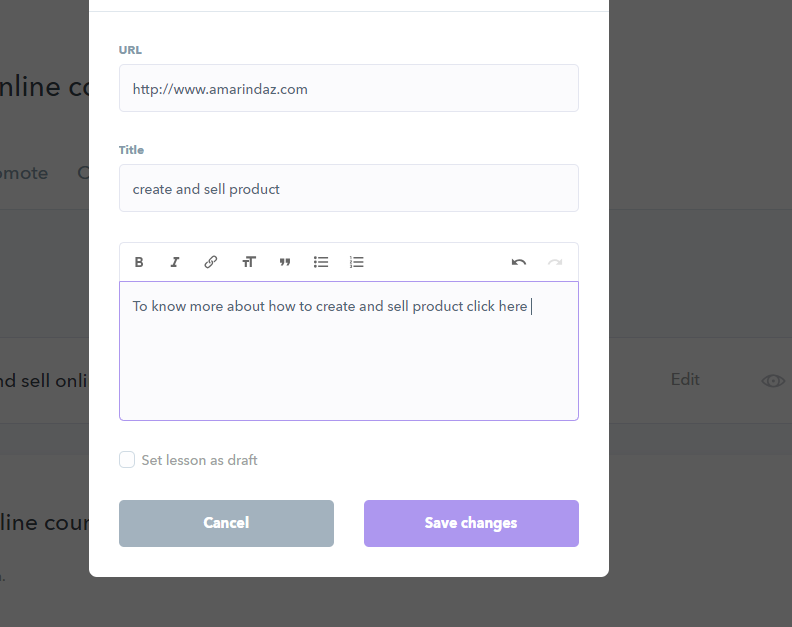 Step 2:
Click the link button, you will get a dialogue box as shown below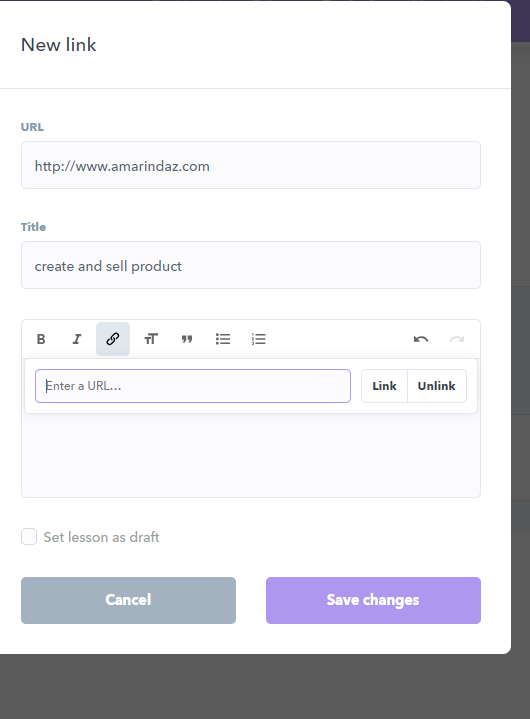 Step 3:
Copy the URL which you want to link in the description box and paste it and then click on Link
Step 4 :
Your link will be included in the description box and click on "Save Changes" and you are done.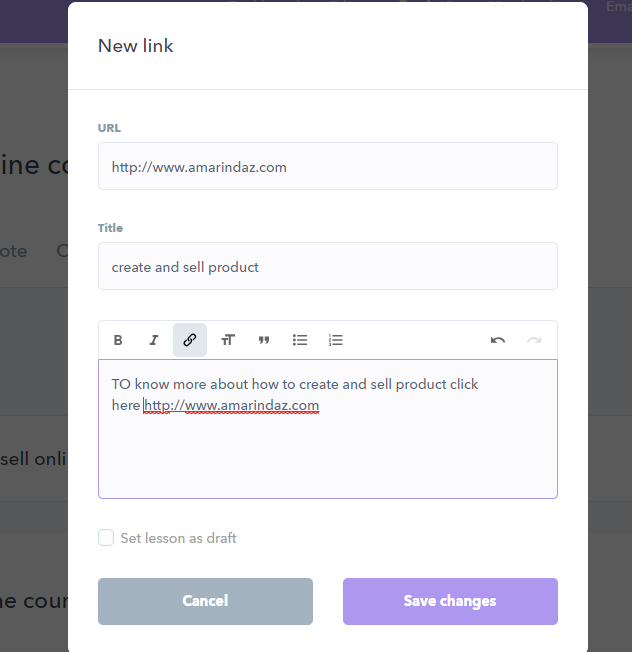 HOW TO ADD A TEXT?
You can describe the lecture using the text option.
Go to "Add content " and go to " Add text " Click on it

you will get a pop-up containing "title" and "description"

Fill in the details and click "Save Changes"
HOW TO ADD A QUIZ?
Creating a Quiz make us know how well your students learn from our course. Creating a quiz is very easy in Podia
Click on "Add Content" and then on "Add Quiz"

You will get a blank quiz design as shown below

Double click on the blank quiz page, you will be directed to another page. Press " Add question" to add your questions for your quiz
In that quiz page, write your question and option, you have to select the possible correct answer by clicking on the checkbox
And then Click "Save", you can even add more question based on your preference. And click "Publish" on the top corner.
That's it. You have successfully created the content for your course.
STEP 6: Update settings
The next step in the course creation page is "Settings".Click on "Settings" where you can see three options
Details

enrollment

integration
DETAILS :
In details, you have to give a title to your online course.
NOTE: The course name must be around 50- 60 words for best result.
ENROLLMENT:
You can enroll your customer directly to your course simply by adding their e-mail id. There are two options in enrollment settings
start date

Close enrollment
In the start date, you can select the future date you wish to publish your course. Customers who purchased your video will be charged immediately and they can access your course on the start date.
if you want to add the date, click on "Add a start date "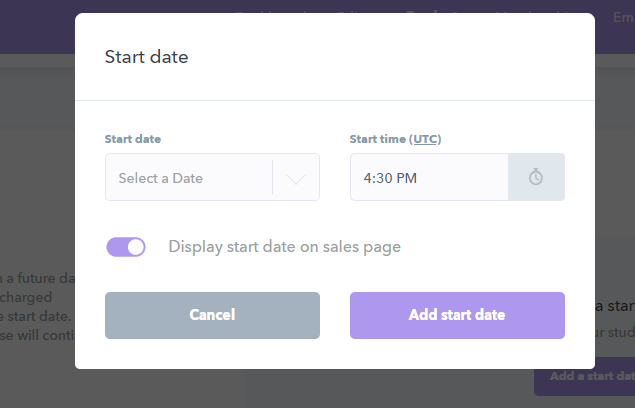 Close enrollment
Select this option if you want to close the enrollment of your online course. Your existing customers will have access to your online course
NOTE: You can manually enroll your new customer at any time you want
Just click on the "Close enrollment" button and you are done
Step 9: Time to set the price
When you create an online course, you can offer it for free or charge your students. Let's see how to set the pricing details for your online course.
The next step is to set up the price for your online course, Click on "PRICING"
You can see the below options
Price

Payment plan

upsell

coupons
PRICE:
You can set the price by clicking  "accept online payment", which will take it to another window.
Here you can change the currency as well.
You have to connect with your bank account and click "save settings"

Then after filling the details, come back to the pricing page

You can set the course price as per your preference.
PAYMENT PLAN:
You can actually give options to your customers to split their purchase with multiple payments. If they do not afford to buy at a single go.
UPSELL:
This is a great way to increase the sale of your product
Upsell means you can combine a few courses as a bundle and give it at a discounted price.
Click "Add an upsell", you will get a pop-up window
You have to select a product that you want to add and fill the discount amount you want to provide. and then click save
COUPONS:
You can offer coupons to your students. Because Students love coupons!
Let's say you are sending students from your YouTube channel, then create a coupon "YOUTUBE20OFF" and add it in the YouTube description. So, when students enroll for one of your course, he uses the coupon to get 20% off on course price.
Podia offers three different types of coupons.
Normal Coupon

Timed coupon

Limited use coupon
Normal Coupon: Your customer can use the discount that you chose (either dollar or percentage)
Timed Coupon: These coupons will expire on a set date. These are similar to the time-based sale like new year sale.
Limited Use coupons: These can be used only for a predefined number of times (only for limited people). For example a 20 % discount on my online course for the first 25 students.
To set the Coupon, Click on "Add Coupon", you will get a pop-up window containing code and type.
In code textbox, you have to specify the name and in type, you can select the type of coupon (normal/timed or limited) based on your preference.
Normal coupon
In Normal Coupon, you can see "Discount type" and "Percentage off".In Discount type, you can either choose a percentage or an amount
Timed coupon
In Timed coupon, you have to set up a date after which your coupon is no longer valid and have to select the discount type and percentage off and click "Create coupon".
Limited coupon
The last one is Limited coupons (which can be used only for a limited number of times), you have to specify the number of times the coupon can be used and select the discount type and percentage off.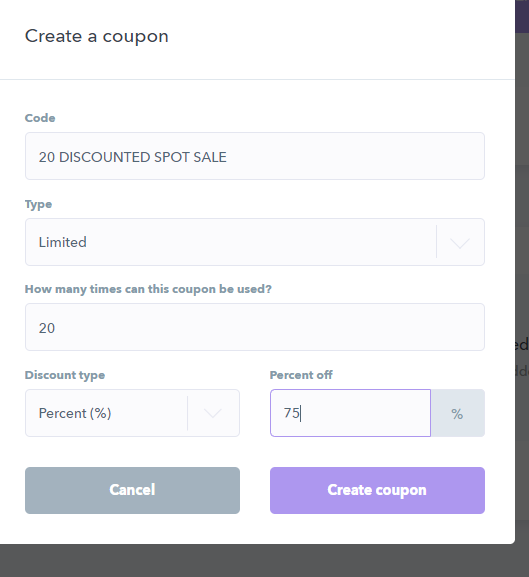 Then click "Create coupon" to create your coupon.
Step 10: Time to publish your online course
Once you have added your content then the next step is to publish your online course.
1)Click the "Draft" in the right corner, you can see "Publish" just click on it your online course will be published.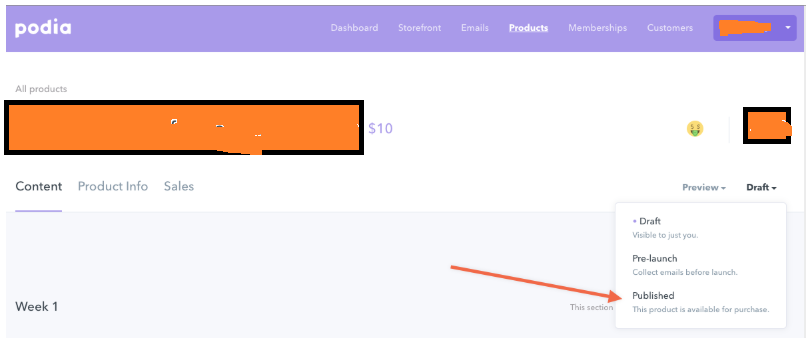 2)After you have published your online course, you can see options to share your course across social media such as Facebook and Twitter. You can copy the Buy New URL and post on your blog/YouTube or wherever you can send traffic to your online course.

Why don't you try Podia for your online course?
Podia is an emerging e-commerce platform which helps you to create and sell best online courses, e-book, membership, digital downloads, etc., Podia pricing is fixed irrespective of the number of courses or products you have.
Just click on the below button to get 14 days free trial(No credit card needed) and explore all the features available.
Sign up for 14 Days free trail