How to remove excel password online without password?
In this post, we are going to see how to remove excel password online without knowing the password.
Did you forget the excel password?
Want to unlock password protected excel file?
or do you want to remove excel password online?
No worries.
Sometimes we tend to forget the password but most of the cases we have "forgot password" option to reset the password.
Unfortunately, Excel doesn't have options like that. Once you forget the password you've no other choice to recover the data inside the workbook??
Isn't it??
It reminds me of an incident happened long back at my office. I was maintaining client personal information(client name, email and phone number) in excel workbook that was kept on a shared drive.
Since it contains sensitive information I protected the excel workbook with password and for few days I didn't have necessity to open the workbook.
One fine day I opened the workbook only when my boss asked me to share the list of client that was added in last month.
As soon as I opened it, I enter the password that I remember and to my bad luck, I couldn't open it 🙁 Trying all default passwords that came to my mind but no luck. Then I stop spending time on entering the excel passwords and start searching on the internet on "how to remove excel password online".
The so-called hackers on the internet suggested to run some high vulnerability macros and some people suggested to open it with the dictionary attack approach.
But I couldn't succeed in all those experiments.
And somewhere on the forum, a clever guy mentioned the online excel password remover link and I decided to give it a try. Finally, I removed my excel password in few seconds and shared all the details that my boss needed.
So if you are in the same situation don't worry. You can recover your data back by removing or finding the excel file password.
I'm going to walk through on how to remove excel password online and recover your valuable data back.
How to remove excel password online?
Please keep your locked(protected) excel file handy on your computer.
Step 1
Go to the password-recovery page where you can see options "unprotect your file".
Step 2
Click on the "Unprotect your file" and it'll take you to the upload file section. Click the "Browse" button and it'll prompt you to upload your protected excel file.
Go to the directory where you kept your excel file and upload it.
Step 3
It'll take a few seconds to upload the file to the server.
Once the file is successfully uploaded you'll see the green tick next to the file name.
Click on the next step.

Step 4
You'll see two options "remove password" and "find password".
I recommend you to go with "remove password" and click the next step button.
If you select the "remove password" option, it simply removes excel password online.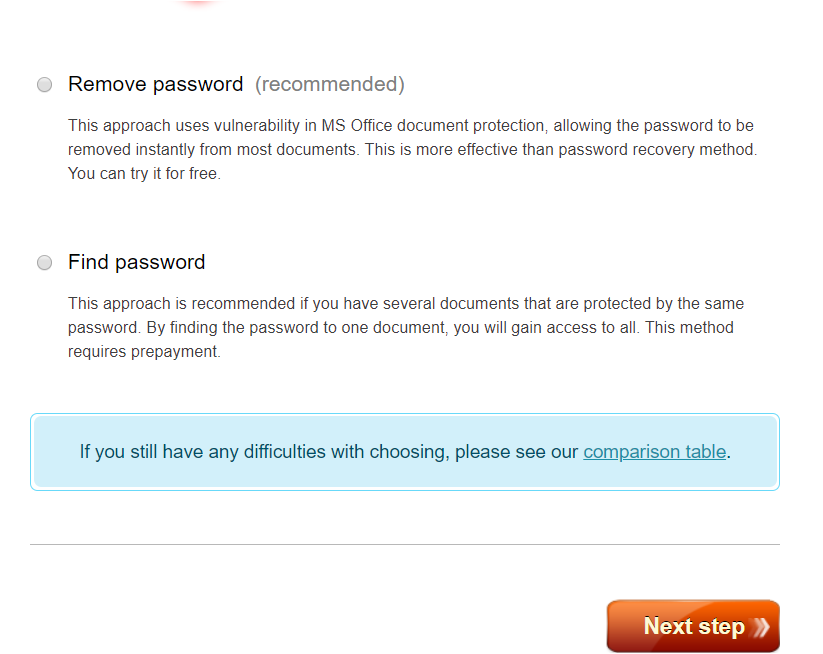 Step 5
Once the password is successfully removed from your protected excel file, you 'll see the message "Congratulations! Password-Find has successfully removed protection from your document! ".
You can click on the "Download" link to download the demo file to confirm whether the excel file password is successfully removed and data(partial) data in the excel file matches with your actuals.
Once you confirm that you can click on the "Buy a license" to purchase a license key to download the completely remove excel password online.
Once you purchase a license you can use the same license key to remove the password for 10 times for 10 different document types(Microsoft excel, excel VBA, word, and powerpoint)
Note: License key will be sent to your given email id instantly after the payment is complete.
Enter the valid license key and click on the "Get full document" to get the unprotected excel workbook.
Step 6
As soon as you click on the "Get full document", unprotected excel file will be instantly downloaded to your PC.
That's it! You've successfully removed excel file password without knowing the password 🙂
Frequently Asked Questions
Does it remove password of all excel formats?
It removes the password for commonly used excel file formats(xls, xlsx and xlsm)
Does it unprotect the protected excel sheet?
Yes, it unprotects the protected excel sheet irrespective of it count.
Does it unlock password protected excel workbook?
Of course, it successfully removes the password from protected excel workbook.
Does it unlock excel VBA code?
Yes, it unlocks the excel VBA code as well. So that you can see and edit changes to VBA codes.
Does it unlock if my excel workbook, VBA code and sheets are protected with different passwords?
Yes, it'll unlock!
Will you get a refund if it's failed to remove the password?
Yes, it provides a 100% money-back guarantee if they were not able to remove excel password online.
I still have questions?
Please see the FAQ page and you can contact them if you still have any question and get reply within one working day.
Here's the demo video on how to remove excel password online
Let me know if you have any doubts