How to unprotect excel sheet without Password
In this post we are going to learn how to unprotect excel sheet without Password.In this method we are not going to use any excel password recovery, excel password remover software or VBA Macro Code.
It's very common that we used to forget password and if you have ever forgotten a password for one of your excel worksheets then you know how frustrating that can be. No needs to worry any more and in this post you'll learn unprotect excel sheet without Password in simple steps. Before get into the below steps take a backup of your excel workbook as a precaution.
Steps to unprotect excel sheet without Password
Prerequisite
Winzip or 7-zip or any other software which can unzip the zip files.
Step 1
In first three steps, I'm going to tell you how you lock the sheets with password. Go to the sheets which you want to lock and then go to Review tab and in the review tab you'll find an option "Protect sheet" in the changes group.
Step 2
Click the Protect sheet button and it'll prompt for the password and display options to lock. Enter the password and keep the default options selected and finally click OK button. It'll prompt again to enter the password one more time.Enter the password and click OK button. Save the workbook and close. Ensure that you're not able to edit the protected sheets before unlocked with password.
Step 3
When you try to edit the protected sheet you'll get a warning message as shown below and by this way you can confirm that sheet it protected.

Step 4
Now all set and hereafter we are going to see the steps to unlock the sheets. As of now, your excel workbook extension should be like .xlsx, xls etc., you need to change the extension to .zip by clicking F2 or Right click-> Rename. If you are not able to see the extension of the workbook go to Organize-> Folder and search option-> View tab. In the view tab, uncheck option "Hide extension for known file types" and click Apply and Ok button.
Step 5
Now your excel workbook naming convention should be like .zip. Using winzip or 7- zip software extract the excel zip file into new folder to unprotect excel sheet without Password. Here, you can see four files(Three folders and one xml file).
Step 6
Go to xl folder and here you'll find six files(Three folders and three xml files). Go to worksheets folder and it'll show the sheet name in xml format.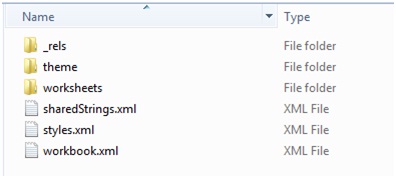 Step 7
Open the xml sheet name which you want to unprotect using word pad. You can see the excel data converted in xml language. Press Ctrl+F, enter the word "Protection" and click "Find Next". It'll take you to that position as shown below.
Step 8
XML tags start with '<' and end with '/>'. Here, you need to remove the tags which contain word "Sheet protection". I've highlighted the section portion which needs to be removed. Select the portion and click backspace or delete. Save the xml (Ctrl+S) and close the file.
Before removing the tag
After removing the tag
Step 9
Now go back to the path shown in the step 5. Select and zip those three folders and xml file.
Step 10
Change the file format from zip to xlsx. Open the sheet and now you can see that sheet is unprotected and you can do the edits as you wish.
Congratulations! You are successfully unprotected excel sheet without Password.
See also the video tutorial to unlock excel sheet without Password in youtube or below.

Note: Using this trick you can unlock any number of Password protected worksheets in an Excel Workbook. This post is purely for Educational purpose and kindly don't misuse this trick to unlock copyrighted Excel Worksheets.
Related
How to remove excel password online without password?
Want to remove Microsoft excel password protected workbook, excel sheets, and Excel VBA instantly online?
Please let me know if you have any doubts.  Don't forget to share your experience in comments.