How to use little deals app in restaurant across india
In this post I'm going to show you the best way to save your hard earned money when you're going for team lunch, get together, b'day treat and many more using little deals app. How you'll feel if you give treat to other with 30-40% less than the actual price? Get deals for your basic needs? Sounds cool right!
A mobile app called "Little-Deals offers near you" available on both Android and iOS help you to save huge amount of money you're going to spend on restaurants near your location. It also has tie up with brand restaurants such as Pizza Hut, Cafe Coffee Day, subway, KFC, Rajdhani buffet and many more.
How can I get the little deals app?
If you are an android user go to Google Play store or if you are an iPhone user go to iPhone App store and enter "little deals" in the search box. You'll find the app "Little-Deals offers near you" as shown below.
Install the app and sign up using Email ID and Phone Number. In the referral code just enter "V22D4" to get 30% extra offer along with offer price on your first deal. That's it you're done. Enable GPS for the first time so that app can easily identify your location and list down all the restaurants and hotels nearby your location with offer price.
How little deals work?
Step 1
Search for a restaurant which you wish to go from the little deals app.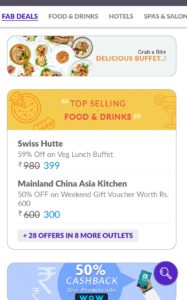 Step 2
Select the combo you're going to have and click the Buy Now button.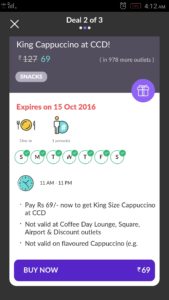 Step 3
If you have promo codes enter and click on the Pay Now button. Pay with your Paytm wallet through Net banking, credit or debit card. Paytm account will be automatically created for you if you don't have existing account. After payment, coupon code will be generated with receipt.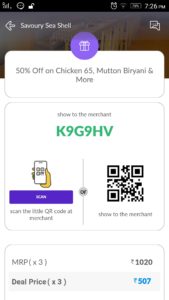 Step 4
Get into the restaurant and show the receipt before having the order. That's it.
How to earn some extra coupons?
Little deals app does have few options which will get another 50% extra offer along with deal price. Go to the coupons tab and shake your phone which will earn 5 coins daily. You can earn 60 coins easily by just uploading the video reviews captured at merchant location. You can earn for each video review you add. Also this app contains few games which will earn another 10-15 coins per day. Little deals app use this tricks to engage their users on daily basis. Once you reached 300 coins you can get 30% offer and for 500 coins 50% offer with deal price. For example if your actual price of the buffet is Rs.999 and through little deals app you get it for Rs.699. 50% offer will also be applied to that deal price so finally you have to pay only Rs 349 for Rs 999 worth buffet.
How to get 50% cash back from little deals?
For few restaurants 50% cash back offer will be applicable. You have to pay the deal price at the time of purchasing the deal .50% cash back will be automatically credited within 24 hours to your little deals after you redeemed your coupon at the merchant outlet. You can use the same for your next deal. Sounds great?!
What are the other deals?
Little deals app not only offer deals for restaurants but also offer deals for hotels, movies, spas, salons etc.,
Pros
No tax applicable
Very cheap price even at brand restaurants
Great opportunity to taste different varieties of food across all restaurants.
 Cons
It would be better if expiration time for the coupons are increased.
Let me know your experience about this app!