[Ultimate Guide] to track YouTube video Keyword Rankings
Do you want to track your Youtube video rank for specific keywords?
Want to check Youtube video ranking every single day? 
Do you want to do Youtube keyword search and competition?
Do you want to analyze Youtube video backlinks?
All you can do with this free YouTube video rank checker tool.
What is YouTube video rank checker tool?
It's a free tool made on Google sheet with official Youtube data API to track your YouTube video ranking position for specific keywords search. Youtube update it's ranking algorithm frequently and you must have the habit of continuously monitor the position of your video on Youtube search engine results.
Is that really important? Yes of course! It's very important.
Let's say one of your Youtube video rank #1 for one specific keyword and as long as it's in #1 position, you'll get constant traffic from that video.
If that drops to rank #2, then you lose ~33% of your traffic.
If it goes to rank #3, you'll lose ~50% of your traffic.
That's why you see a drop in overall views and watch time on Youtube dashboard. This free Youtube rank checker tool notify you about the drop and you can add Youtube SEO to bring back to the same position or move up in the search results. Youtube search engine ranking is hard to predict so it's good to start monitoring your videos on daily basis.
How to find the keyword for my Youtube video?
When you create a YouTube video, you should pick a few keywords having good search volume and less competition. So, you could rank your video for that keyword very easily. It's always recommended to pick long tail keywords for Youtube video. Here is a way to find and long tail keywords on YouTube.
Why specifically Youtube rank tracker tool?
There are so many online YouTube rank checker tool, but the limitations are you can track only the rank of few Youtube videos(~10) or one YouTube video at a time, you need to visit that site every day to see your rankings and you can track very few keywords or you need to upgrade to their premium plan to track more keywords.
But this Youtube video rank checker is completely free, you can track any number of videos, you can track unlimited keywords and you no need to visit any site as you get all the reports to your email every day. All you need to do is simply put a Youtube video URLs(I'll show you shortly how to get Youtube video URL instantly with this free plugin) and keyword that you want to target for that video on Google Sheets and set it up. That's it!
Youtube video rank checker gives you the current position on the YouTube search results for the given keyword for every single day and shares the Youtube video ranking report to the given email. The process is completely automated. No manual intervention needed. But I recommend to bookmark this Google sheets and have the habit of updating this YouTube rank checker tool everytime you upload a new video.
Get YouTube Keyword Rank checker tool
–>Recommeded Post<–
How to bulk update Youtube description [like a Pro]
12 Freaking Best Free long tail keyword research tools
How to pick a random comment from videos with Youtube random comment picker
How to Export YouTube Videos List In CSV Format
The Lazy Man's Guide to do advanced YouTube video embedding
How to set up Youtube video rank checker?
Setting up this Youtube video rank checker is easy and it'll not take more than two minutes. You just need to initialize this set up for the very first time and the script will take care of the rest.
Before look into the steps, make sure that you have completed the below pre-requisite part.

Step 1
Get the google sheets URL from the downloaded document and paste it in any of the browsers address bar.

Step 2
Click on the button Make a copy. It'll be saved in your Google Drive. Open the sheet.

Step 3
Go to Tools->Script Editor. In the Script Editor, click on Resources ->Advanced Google Services.
Step 4
Scroll down and enable YouTube Data API.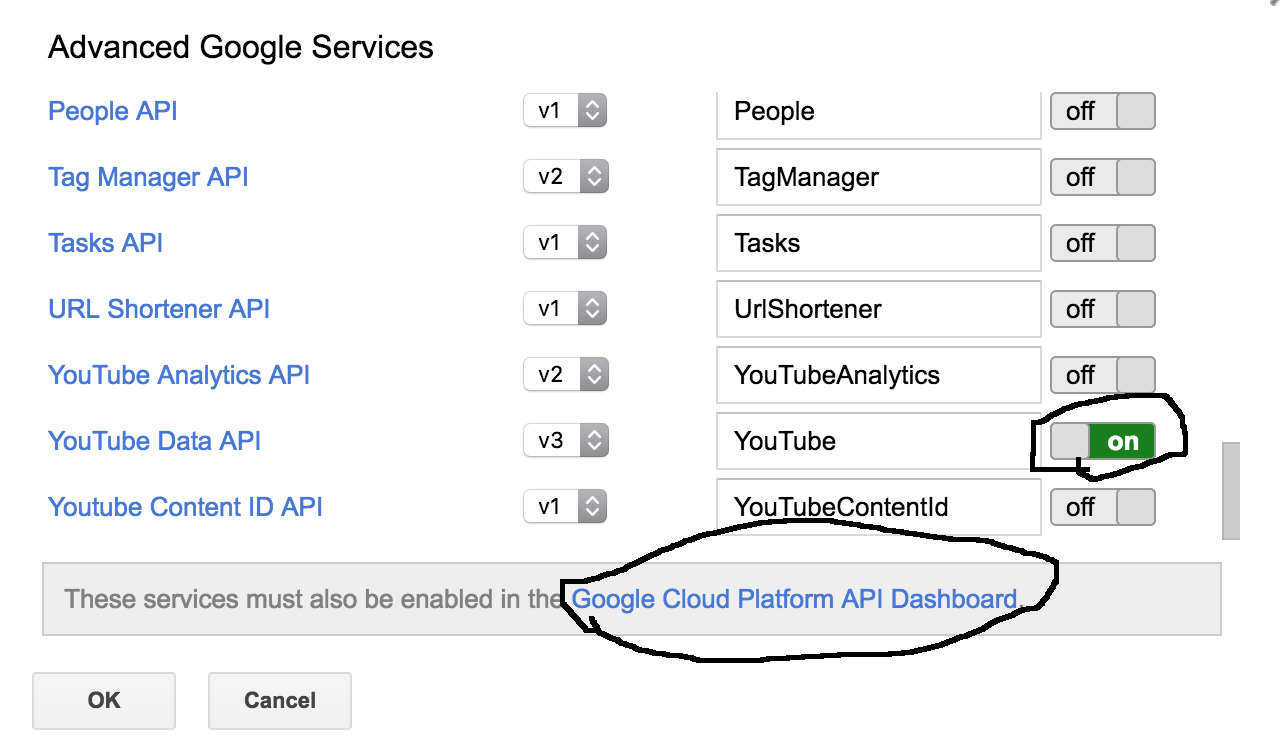 Step 5
Click on the link "Google Cloud Platform API Dashboard" at the bottom. It'll take you to the new window, search for "YouTube data API" in the search text box and click the first result. Then close the window.
Step 6
It'll show the Youtube data API page. Click on the Enable API button. After that, it'll show disable API button as shown in the below image but don't disable it back! Then close this window.

Step 7
Now go back to the Script Editor window. Click ok and close the window.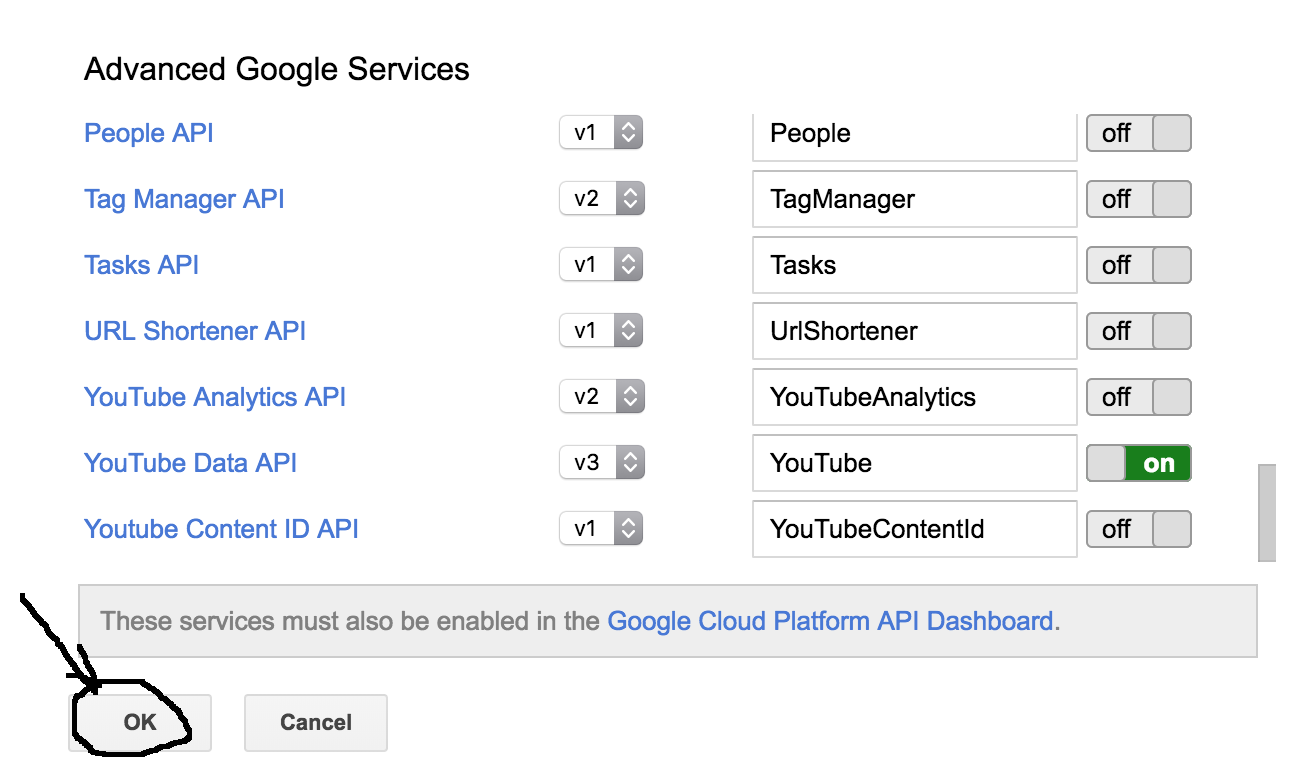 Step 8
Congrats! You are done with one time set up of this Youtube video rank checker tool. Come back to the sheets. Enter your email ID where you want to receive the ranking report in B1. Put YouTube Video URL in Column A and keyword for the video in column B.
Select the menu "YouTube Rank Checker" and click Initialize. It'll start updating the rank.
On Daily basis, it'll send you the ranking report to your email ID. Here's is the sample email.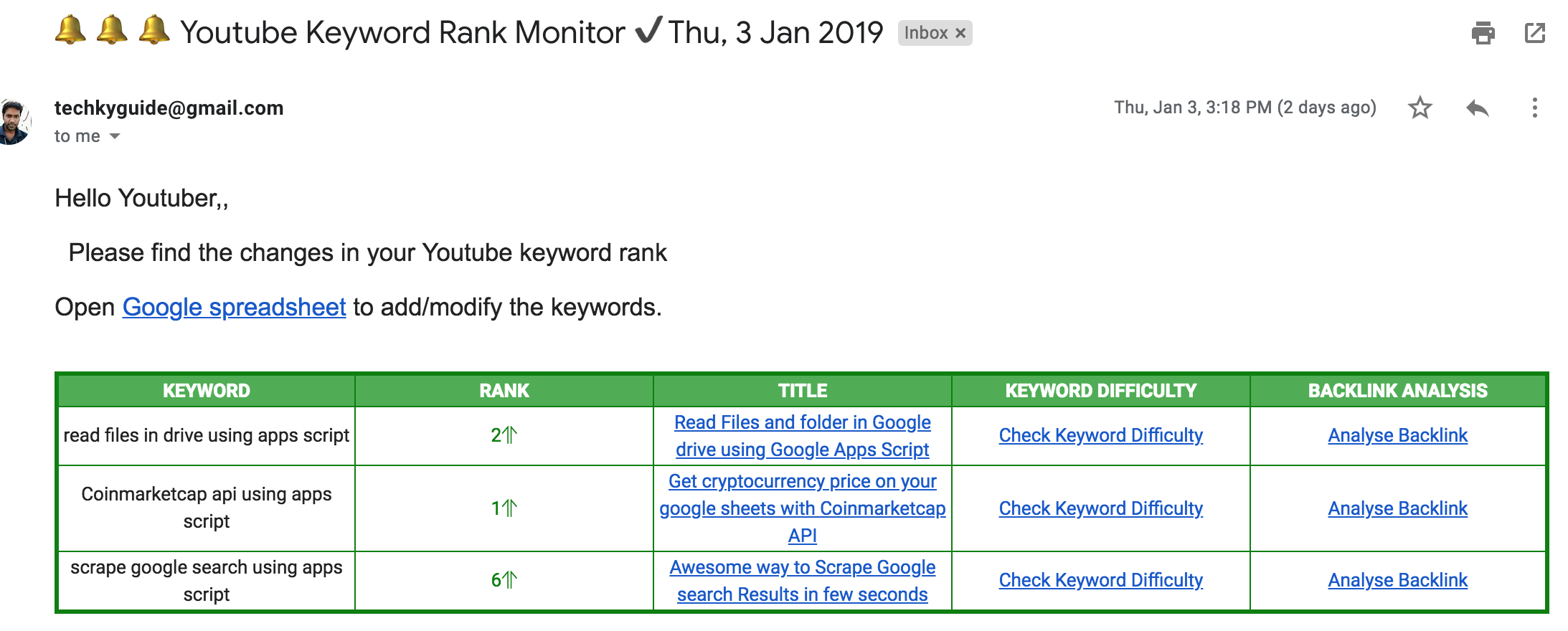 It'll show you the rank as well as the trend of the keyword position(whether your video is ranking up or down), automatically fetch the title, you can click on the keyword difficulty to check the competition from kwfinder and you can analyze the Youtube video backlink from semrush for free.
How to easily get the Youtube video URL?
As I mentioned earlier, if you have installed this plugin on your chrome, you can easily get the URL from Youtube dashboard. You can see TB icon next to it, click on it and go to the Info tab. You can find the direct video link. Copy and paste on google sheets.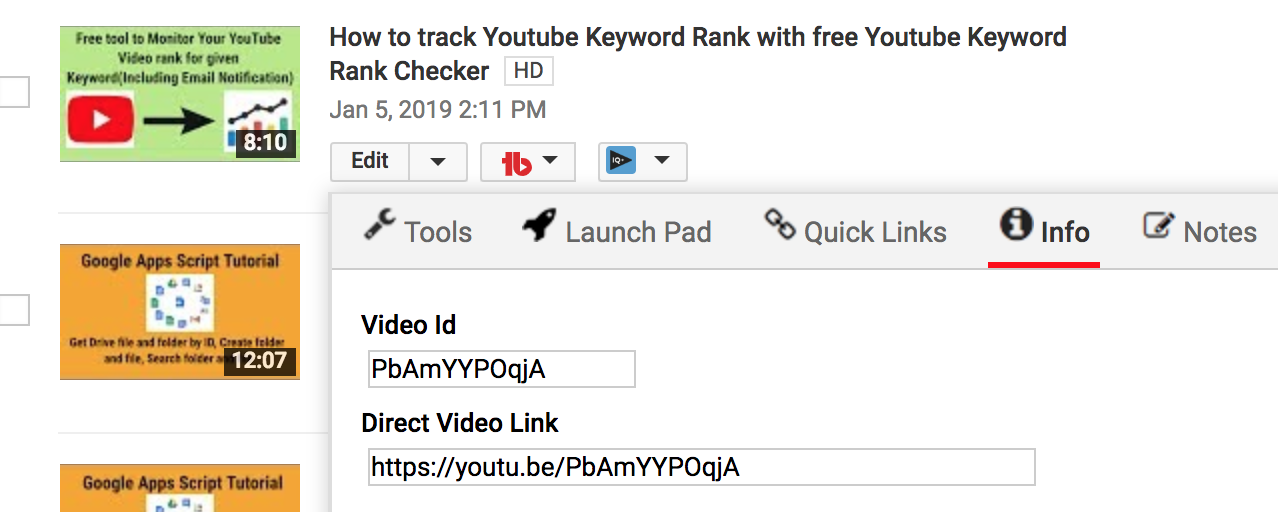 Just download and start tracking your Youtube video rankings right from your email.
Here is the video demo on how to set up this Youtube keyword position tool
Please do let me know if you have any doubts about this free Youtube video rank checker tool.