How to Export YouTube Videos List In CSV Format [Just 2 mins]
In this post, we are going to discuss how to export YouTube videos list in CSV format. By this way, you can take a backup of all your YouTube videos metadata information.
Are you working as a Youtube channel manager or your own Youtube channel has many videos and want to keep track of all metadata changes on the Spreadsheet?
As a Youtuber, everyone wants to keep a track of their metadata information such as Youtube videos title, tags, description etc., of published videos.
Unfortunately, youtube doesn't have an option to export published Youtube videos metadata information in CSV or any other formats.
But there is a simple workaround to export Youtube videos information to CSV format in just 2 mins.
I did that with an awesome plugin.
It has numerous features and one such feature is to export youtube videos to CSV.
Explore 64+ Tubebuddy Features
This plugin helps you to do keyword research, track the ranking of your video, auto-publish video to social media, export video comments for the new topic.
And now, we are going to see how to export a list of all youtube videos
☞ Learn how to export your YouTube playlist to CSV
How to export youtube videos list in CSV format?
Sign Up and Install Plugin on your chrome browser.
Go to Youtube Dashboard and at the top right you can see TB icon. Click on it and you can see the options as shown below
On the left, you can see the "Channel Web tools" section. Under that, you can see "Back-Ups and Export".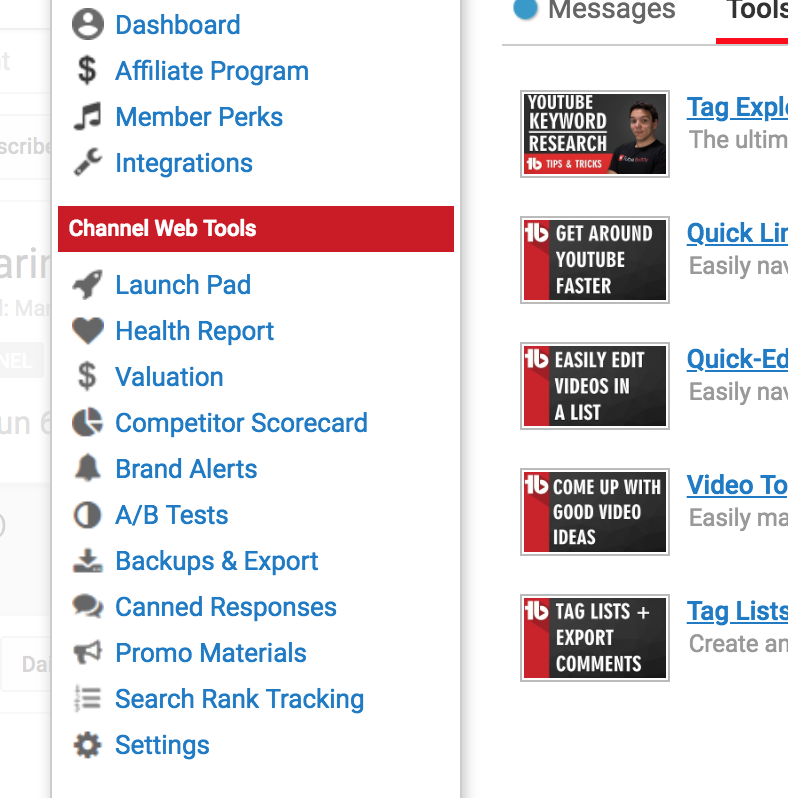 Select that option and it takes you to the backup page.
Click on the "Start New Backup" button. It'll take a few seconds to take a back of your youtube channel videos.
Once that is done, you can click the "Download CSV" option to export Youtube videos metadata to CSV format.
Recommended articles:
Free tool to track YouTube video ranking for keywords
Super easy way to d0 keyword research on Youtube
Quick Way to track your videos rank on Youtube for targeted keywords
Brilliant way to auto publish videos from Youtube to Facebook
The A – Z Guide Of finding long tail keywords for your next video
Guide to export youtube video comments to local drive
Below are the metadata details you can get for all uploaded videos.
Video ID

Channel ID

Title

Description

Tags

Privacy

Date published

Category ID

Category Name

Thumbnail URL

Watch URL

Filename

View count

Comment count

Like count

Dislike count
Note: You need a star level license to use this feature. You can check out the pricing details here. Use my coupon code, 20OFFAMARINDAZ to get 20% discount.
Learn how to Upgrade Tubebuddy and Save 45% off for lifetime
Let me know if you have any doubts.
Update
Also, give it a shot on this freemium online YouTube Channel Backup tool. You just need to enter the Playlist URL and download all the metadata information in CSV just in a swift!
Related
About The Author
Rajan
Rajan is a web geek-Blogger-Programmer- working in corporate firm as system analyst engineer. Whenever time permits he used to blog on recent trends in technology, monetizing tips, Programming concepts and technical guides to beginners in amarindaz.